Grooming Report for Monday, March 20, 2023
Groomed around Royce Mtn and up cascade lakes hwy but unfortunately ODOT began plowing the hwy open from the north end, there's plenty of room to ride beside the hwy but still unfortunate. Groomed up to the Deschutes bridge and back along upper Moore creek and then the west side of Davis lake but it didn't show on the screenshot. The snow conditions are great for spring riding down low and powder higher up with amazingly deep coverage!
Get out and enjoy it!!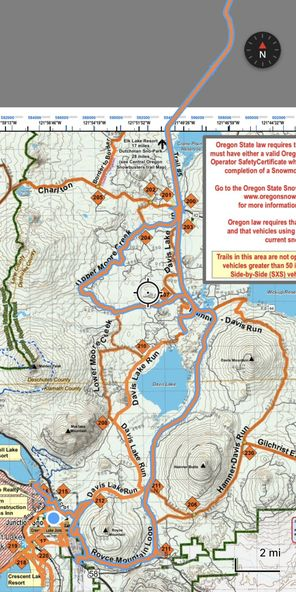 ---
Grooming Report for Monday, March 13, 2023
Groomed around the lake and ran into some guys trying to do a snowmobile recovery- 2 guys all the way at the back of the lake on one sled searching for the other one-that's a bad combination. helped them out a bit and got them steered in the right direction then back to grooming- went around the lake and up to the Tip shelter- snow starting dropping hard the entire night and windy. Starting seeing snow fractures alongside the cat and did a
little testing. As soon as the Cat blade hit a wind slab alongside of Summit lake it broke free almost 3ft deep. If a sledder had tried sidehilling that it easily would of broke free into VW Bug sized chunks. I used the cat to continue breaking it up and mitigating any further risk in the area.
Amateur observations: With all the warm weather and rain we received earlier the snow is drastically heavier and still resting on the remaining weak layers resulting in slides that we haven't been seeing until recently. Bottom line with all this new snow and wetter/denser snow on top of remaining weak layers BE CAREFUL.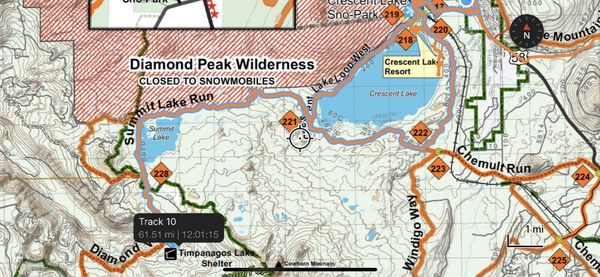 ---
Grooming Report for Thursday, March 2, 2023
4hrs repair/maintenance
11hrs grooming
75 miles
Trying to catch up on all the snow that's came down and the Snowcat had a hydraulic hose fitting come loose which set me back a bit. Groomed up Windigo pass and back and around Crescent lake over to Odell. With all the new snow I'll probably be hitting most trails twice to pack them back in. Tomorrow I may try to hit Summit lake rd or possibly east of hwy 58 before the ride this weekend
The snows deep up high so go prepared!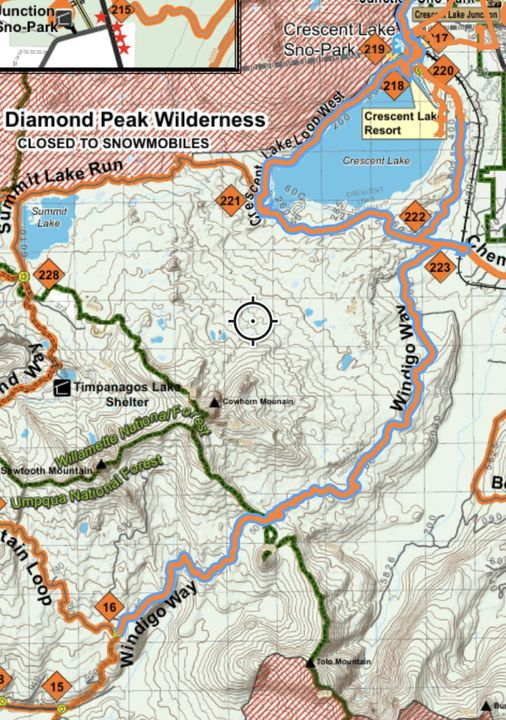 ---
Grooming Report for Saturday, January 28, 2023
Ran up and cleared Upper Moore creek, decent snow up there and great long loop- avoid cascade lakes hwy east of Davis lake though- all bare pavement still.
Ran
up to the Deschutes bridge almost to elk lake- the vehicle ruts cleaned up but not great- as always be careful.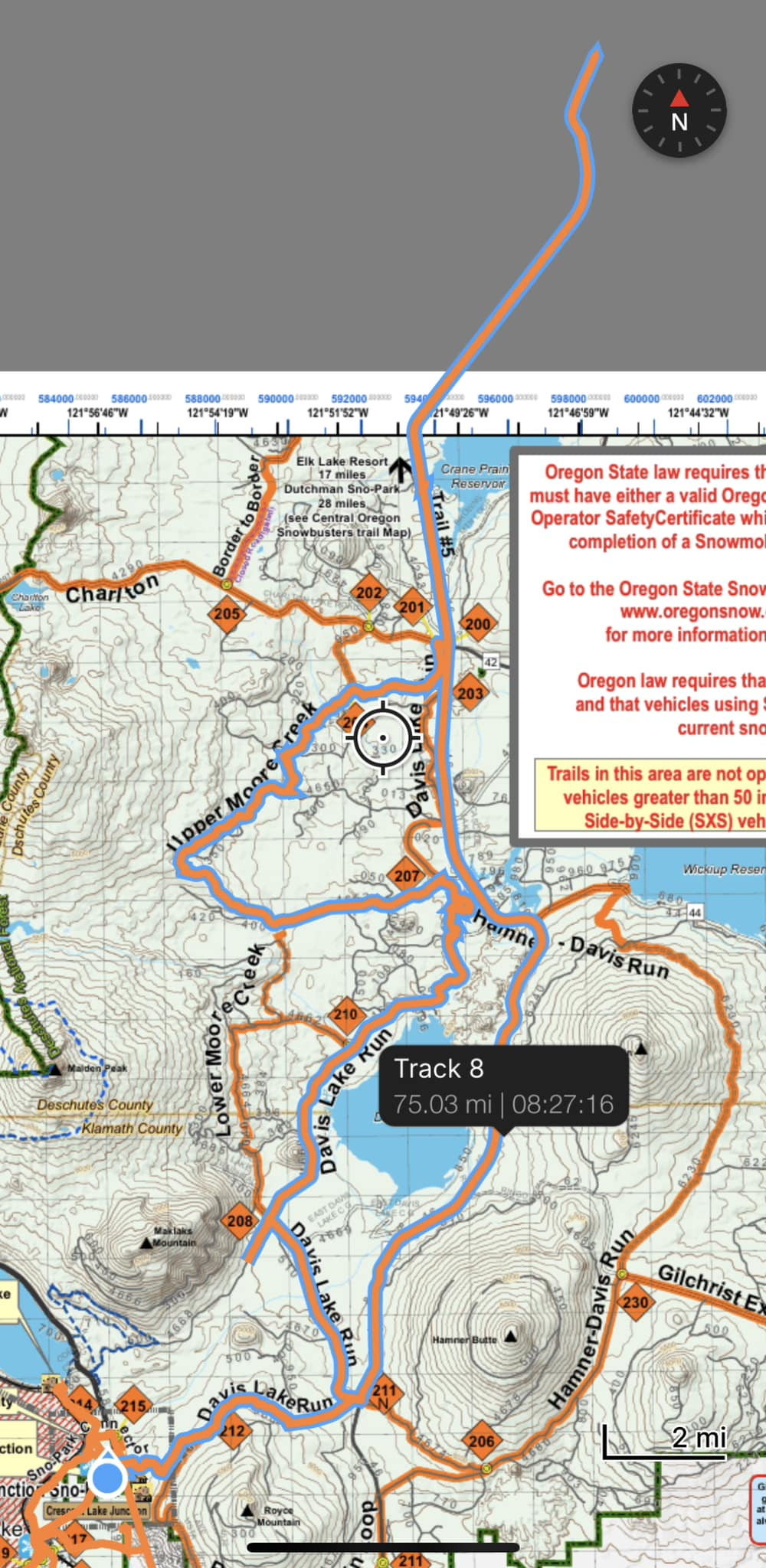 ---
Grooming Report for Friday, January 24, 2023
Groomed around Royce Mtn lastnight and did quite a bit of cleanup, ran out to the Blackrock cinder cone to check on the ongoing logging progress to see if they were about finished- unfortunately the logging contractor is still going strong so we're unable to groom out to the popular cinder cone everyone likes to ride to. I've highlighted it with yellow as well as a long section of cascade lake's Highway that has been sunbaked and is
bare pavement- definitely a no-go where it's yellow. On the west side of Davis Lake is still fantastic!
See screenshots below for current updates.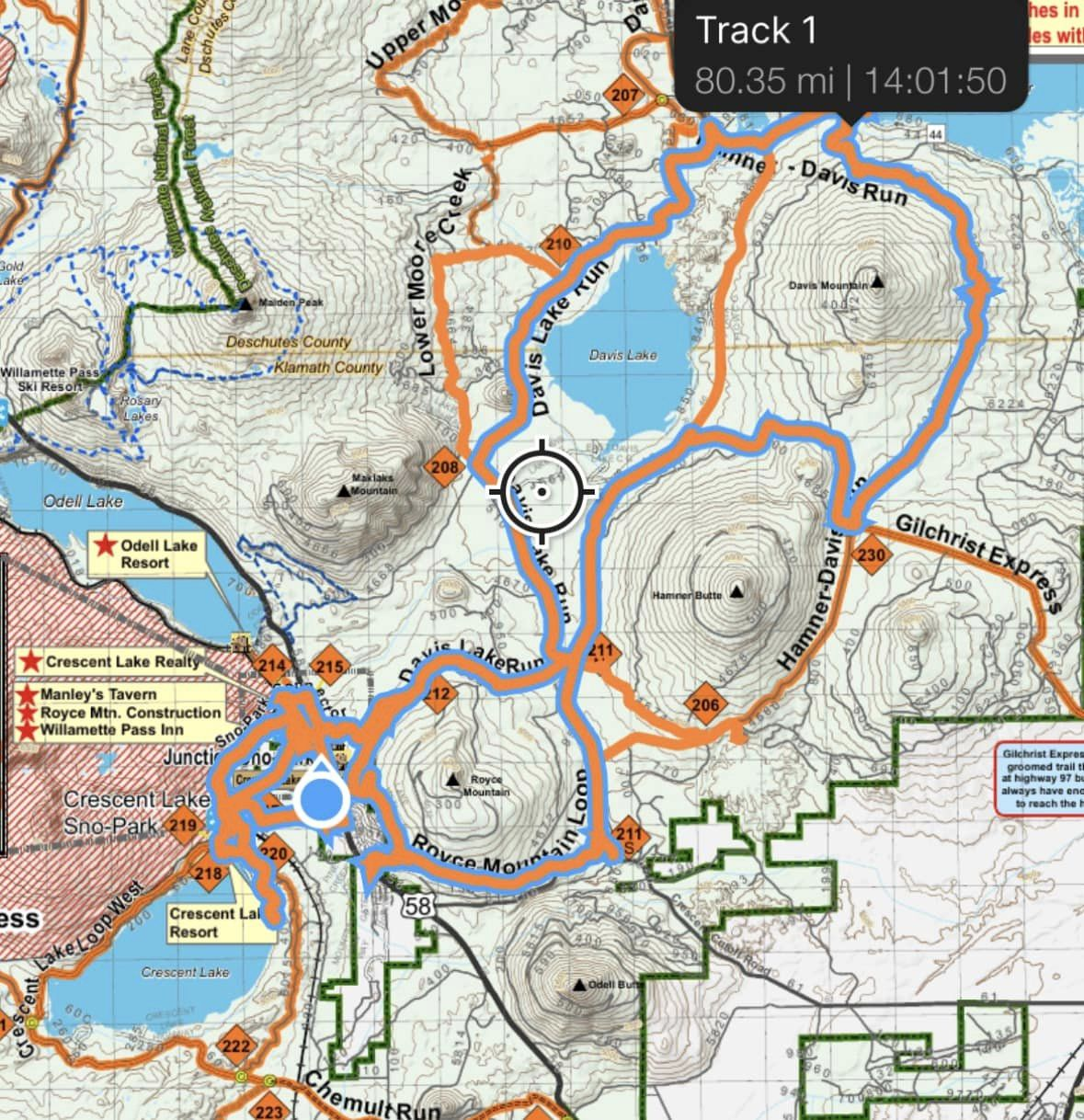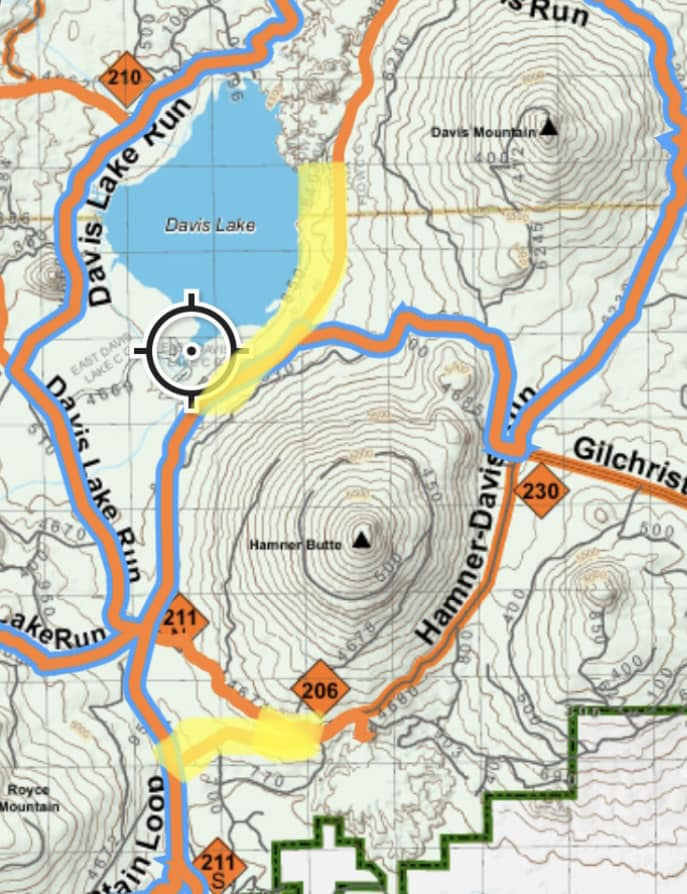 ---
Grooming Report for Monday, January 16, 2023
Groomed lower Moore creek for the first time this season and removed several downed trees. Groomed great! Cascade Lakes Hwy by Davis Lake is a no-go until we get more snow to cover the couple miles of bare concrete.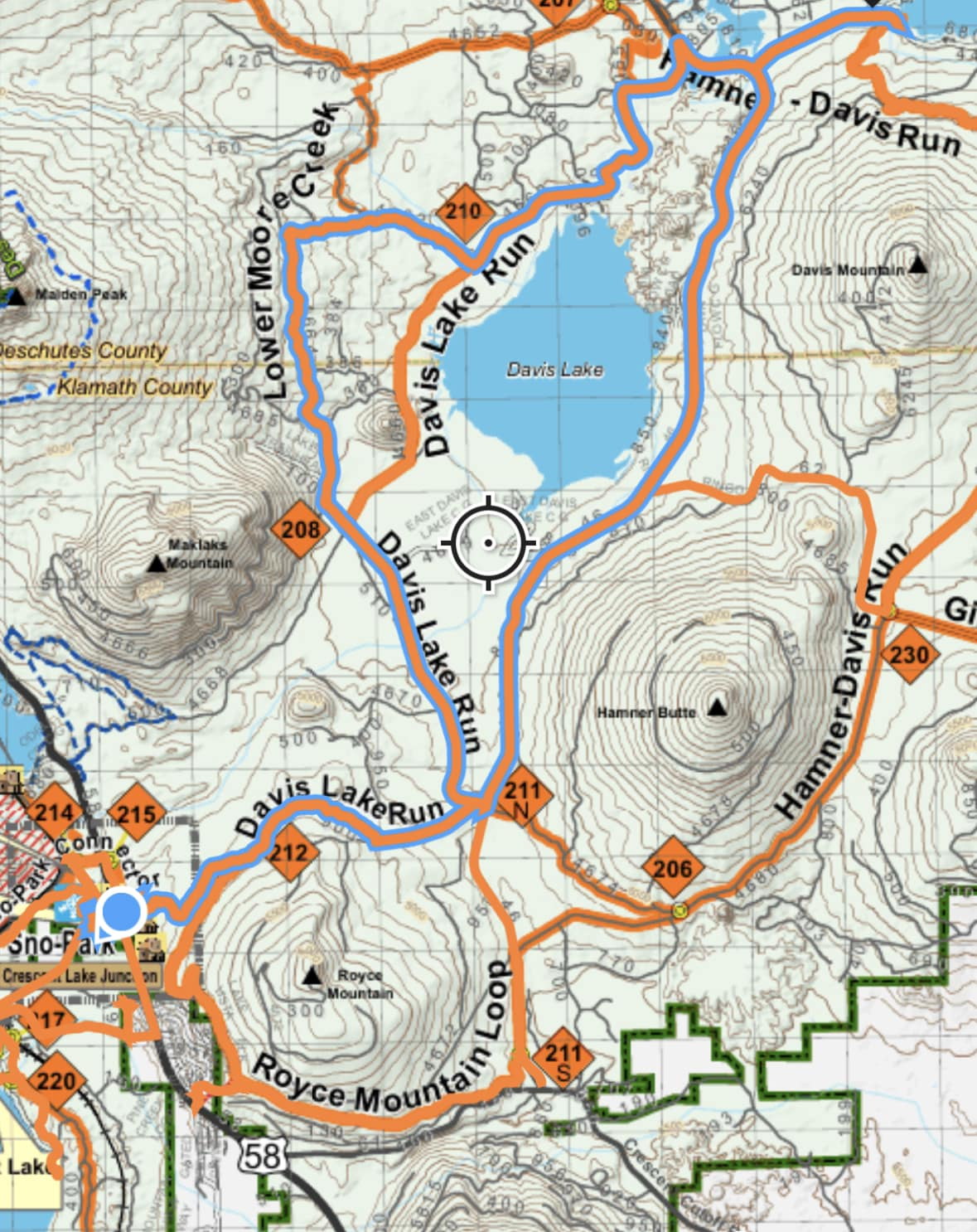 ---
Grooming Report for Sunday, January 15, 2023
Have I ever mentioned how enjoyable it is to be running chainsaws at 11pm, 1am, 2:30am, 4am and 5am after the wind had other ideas about keeping trails open? Always an adventure out grooming- but at least it was warm last night!?
---
Grooming Report for Monday, January 9, 2023
Groomed out around Davis Mtn and back around Davis lake- conditions are great for a non-challenging enjoyable trail ride with some of the best views to be had on the northeast side of Davis Mtn. All local trailheads and subdivision access points are cleaned up with downed trees removed and all the ponds filled from the rain events we had around Christmas- it's 6:30am and beginning to snow hard as I write this
---
Grooming Report for Saturday, December 31, 2022
Groomed-Logged Windigo pass to Kelsey burn for the annual Two rivers north/Tim Sharr Memorial ride, continued down Timpanogas and summit lake to clear all the downed trees from the ice storm. Lost count of how many trees after getting in and out of the cat so many times.
See
screen shots below of what's been groomed and a screenshot of the poker ride info- they're meeting at 9am at the two rivers store for poker run registration- hope to see everyone there if I can grab an hour of sleep.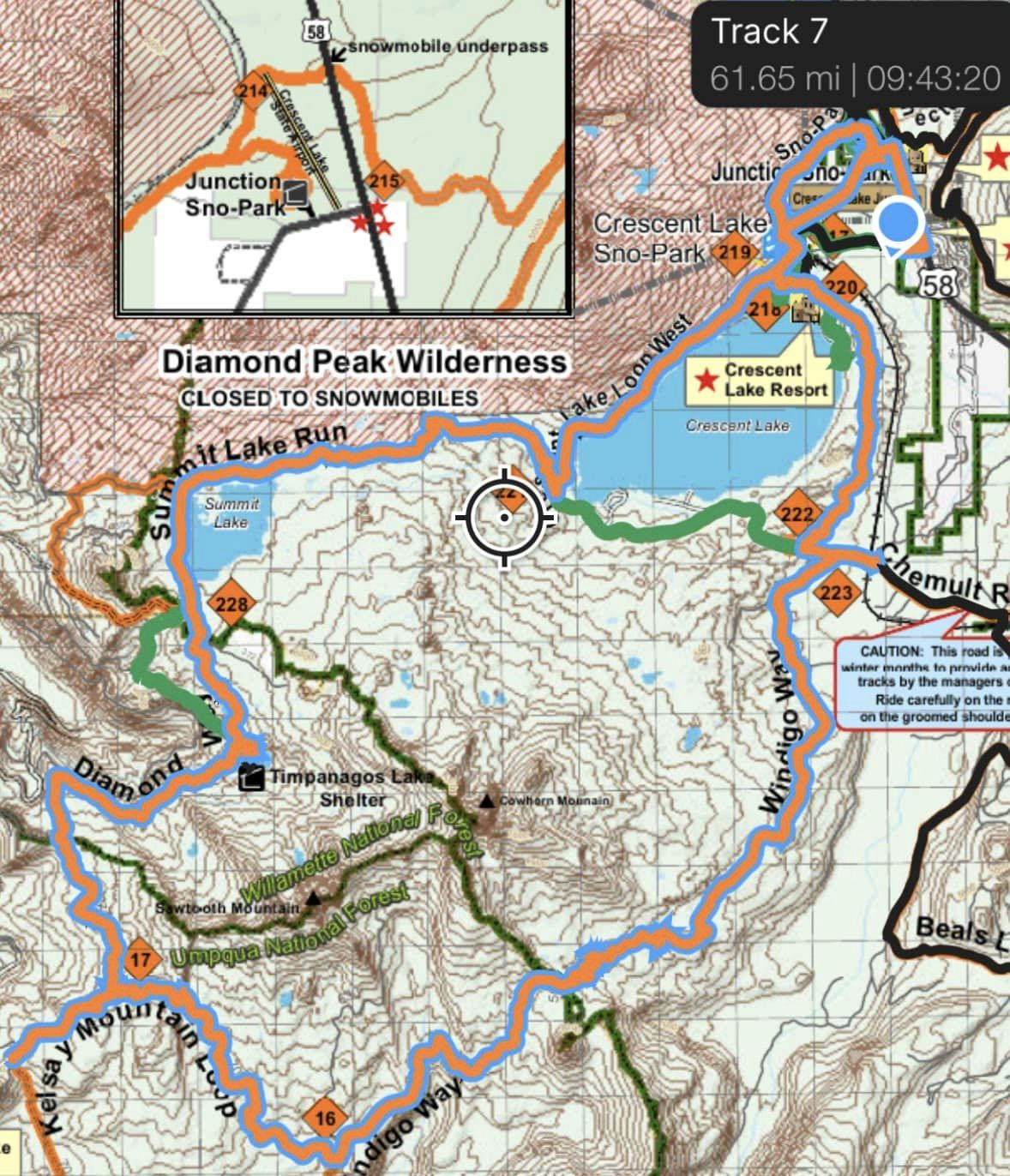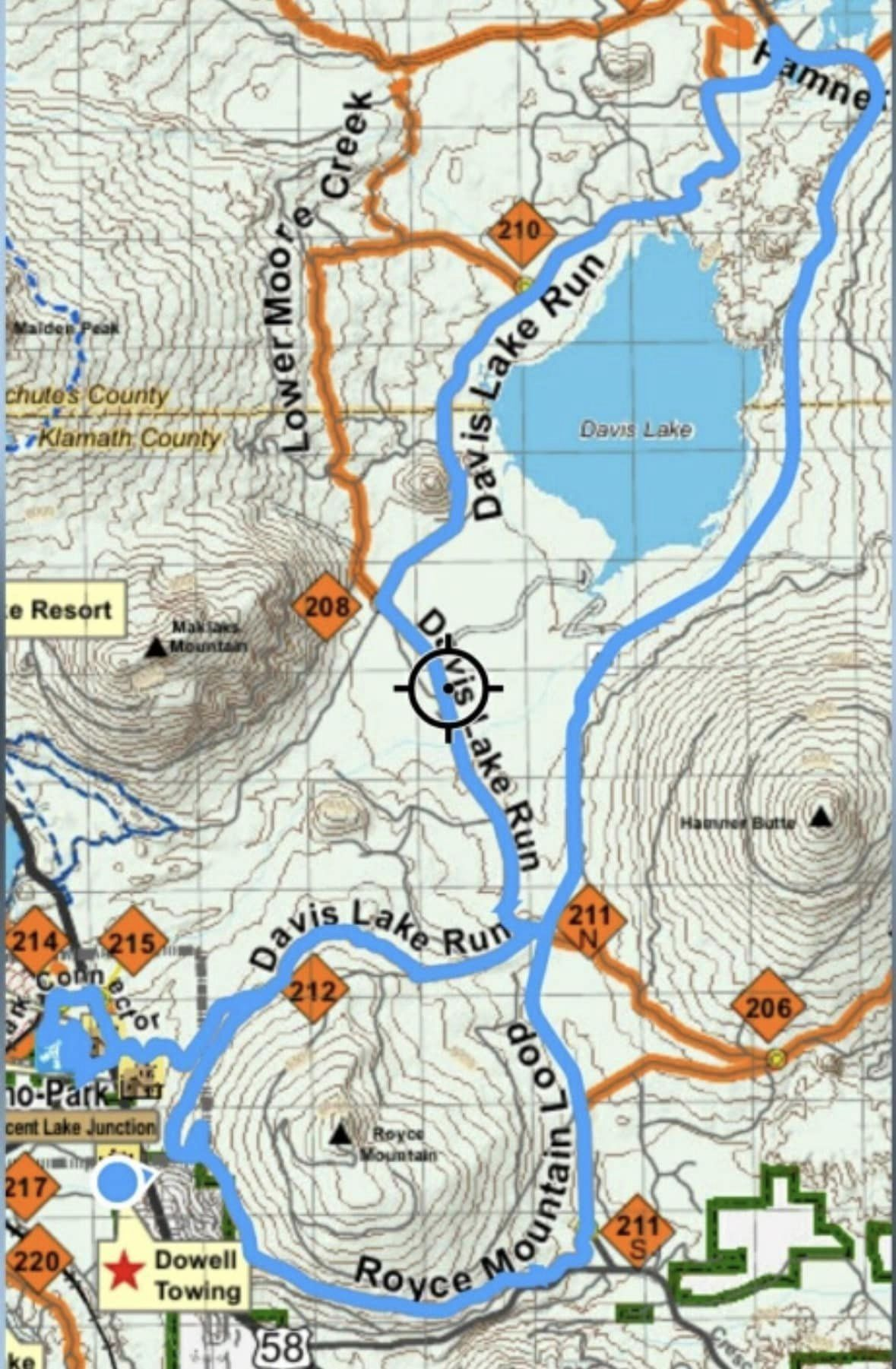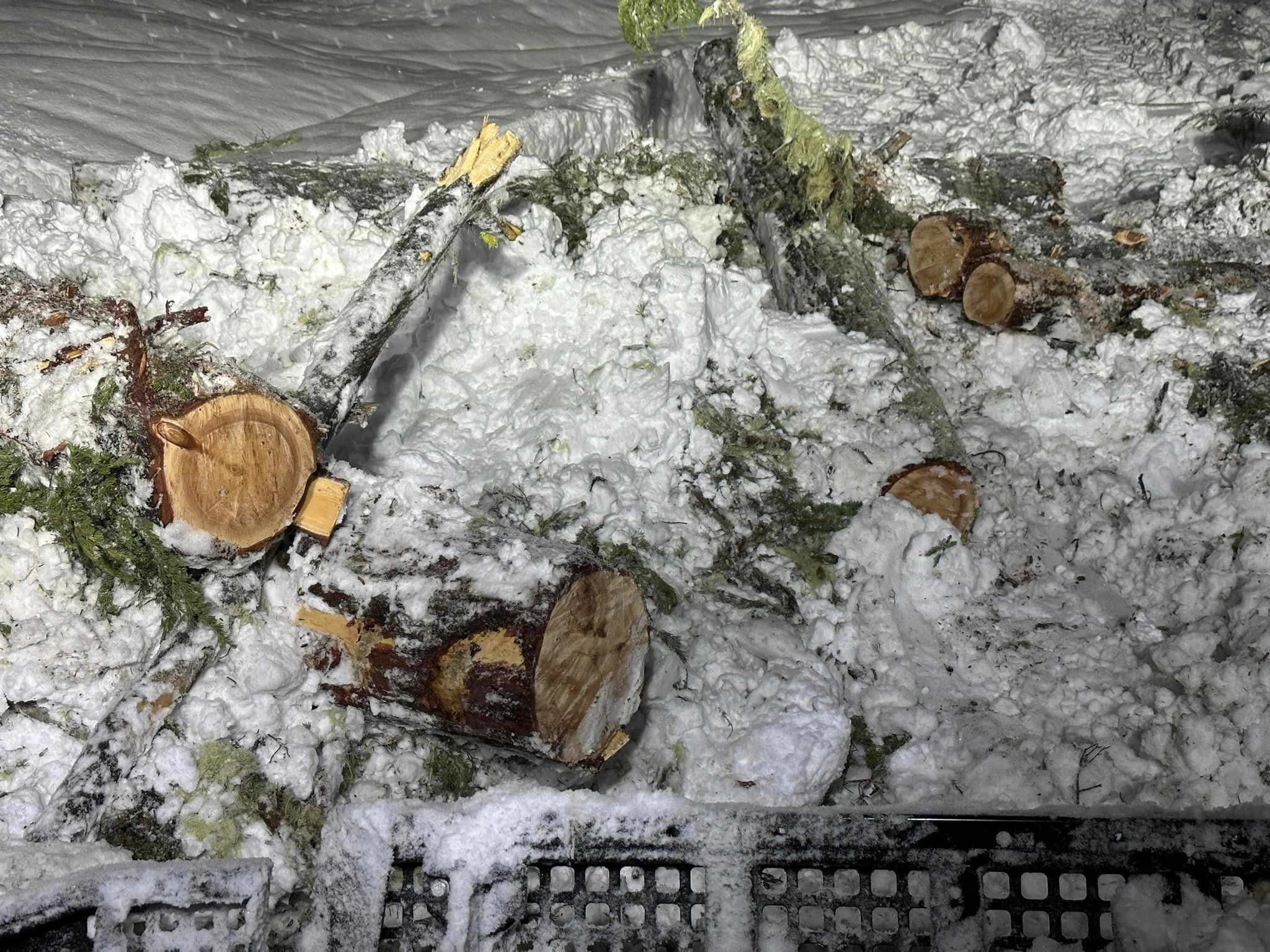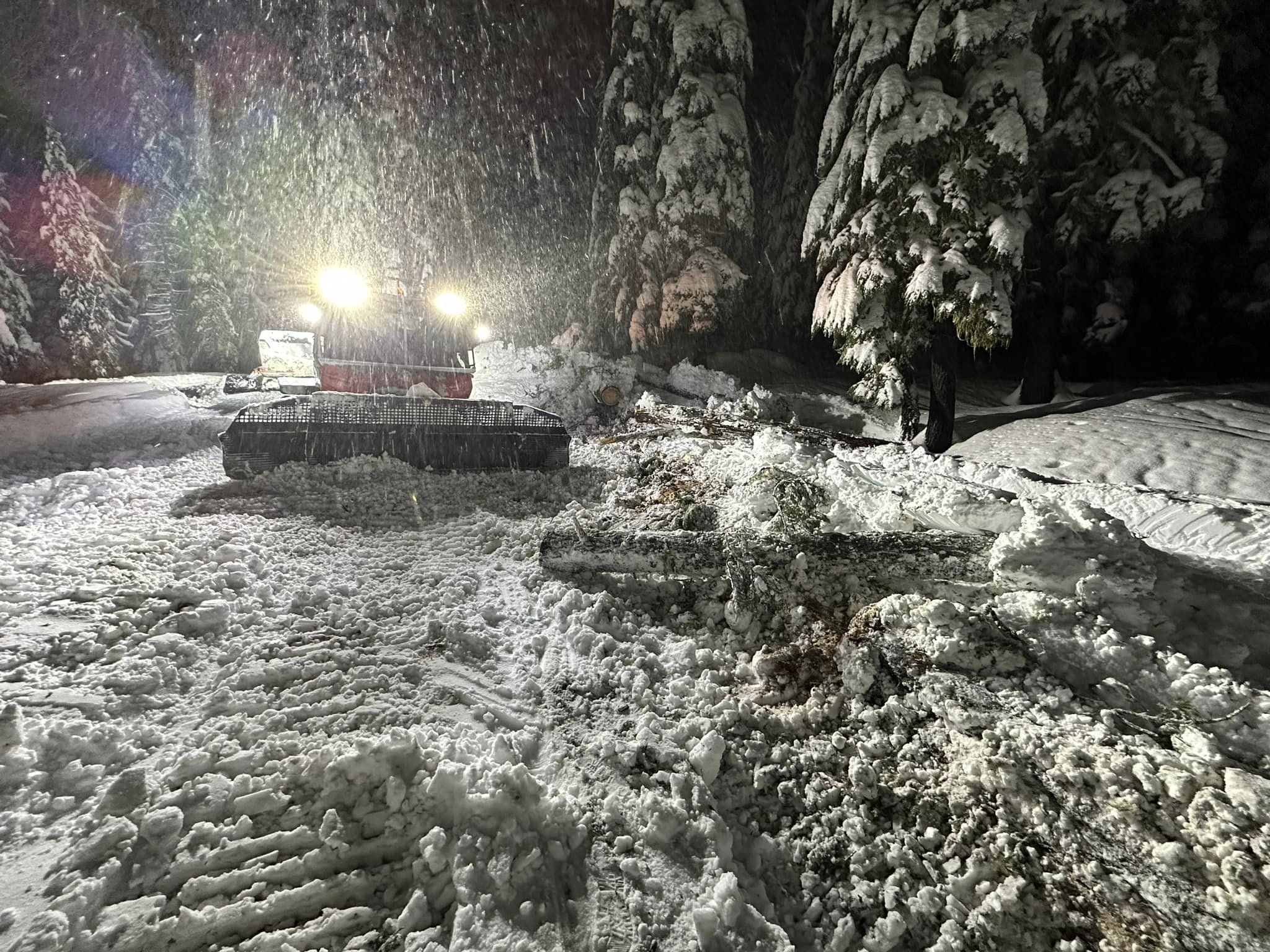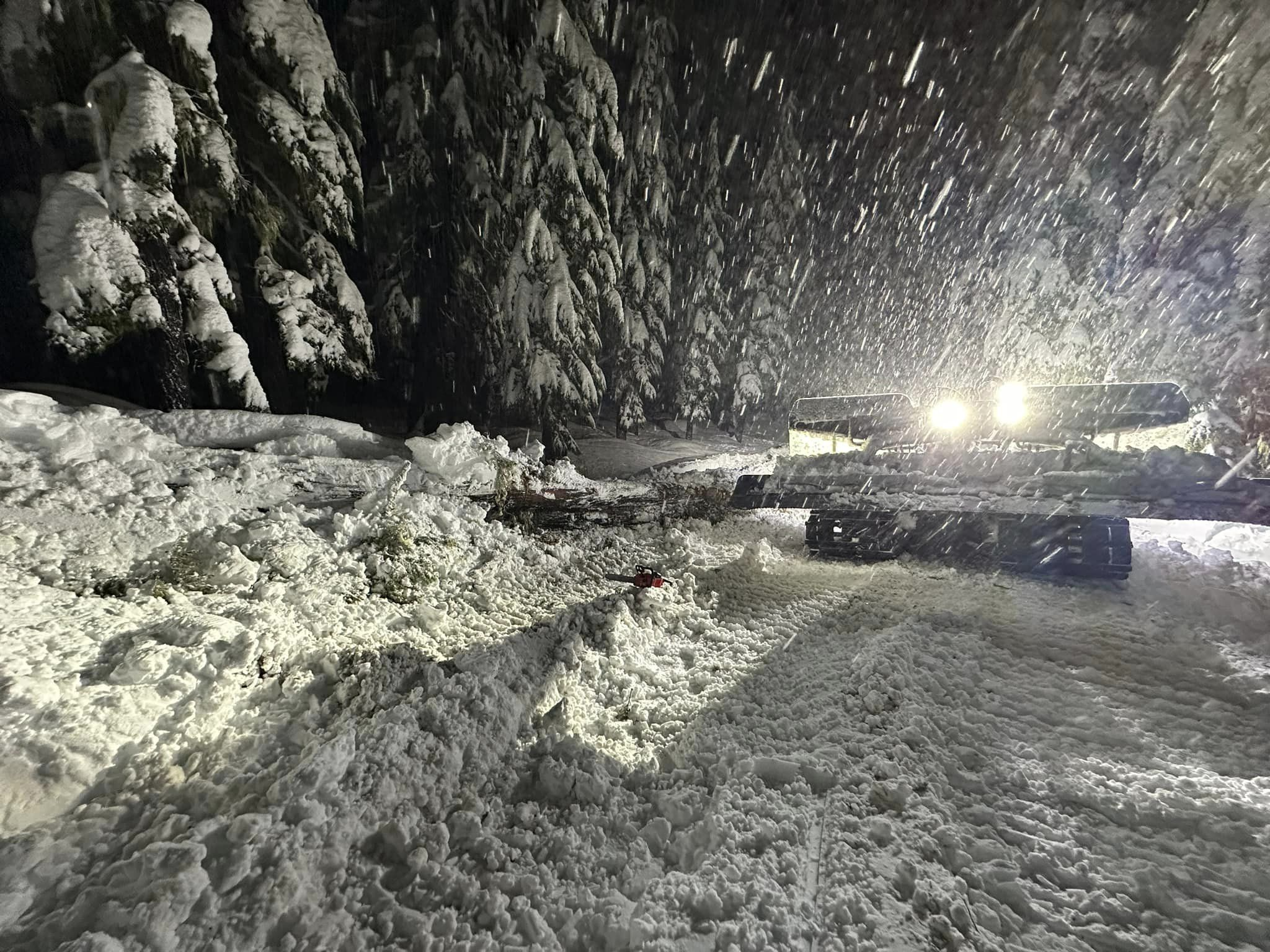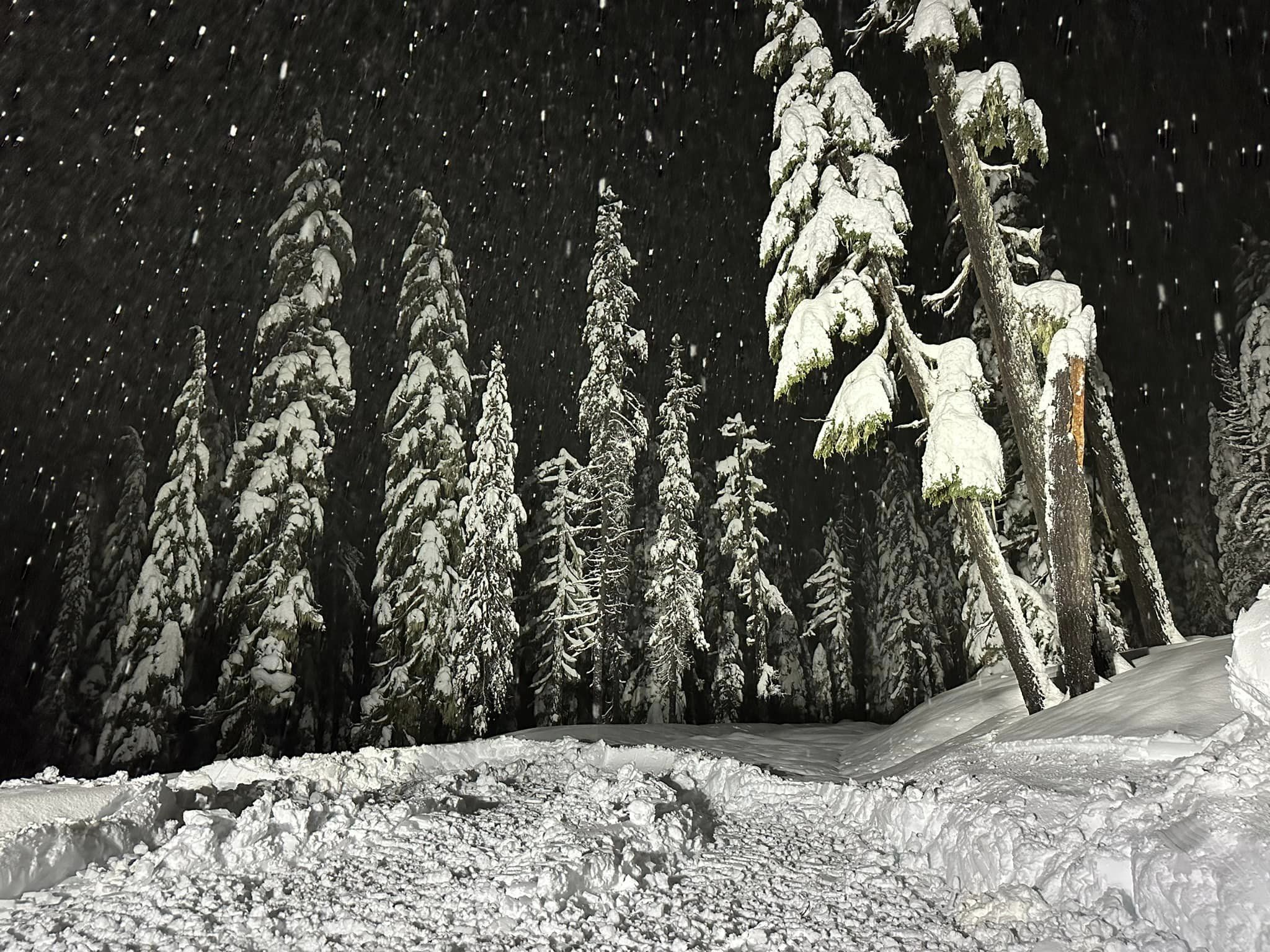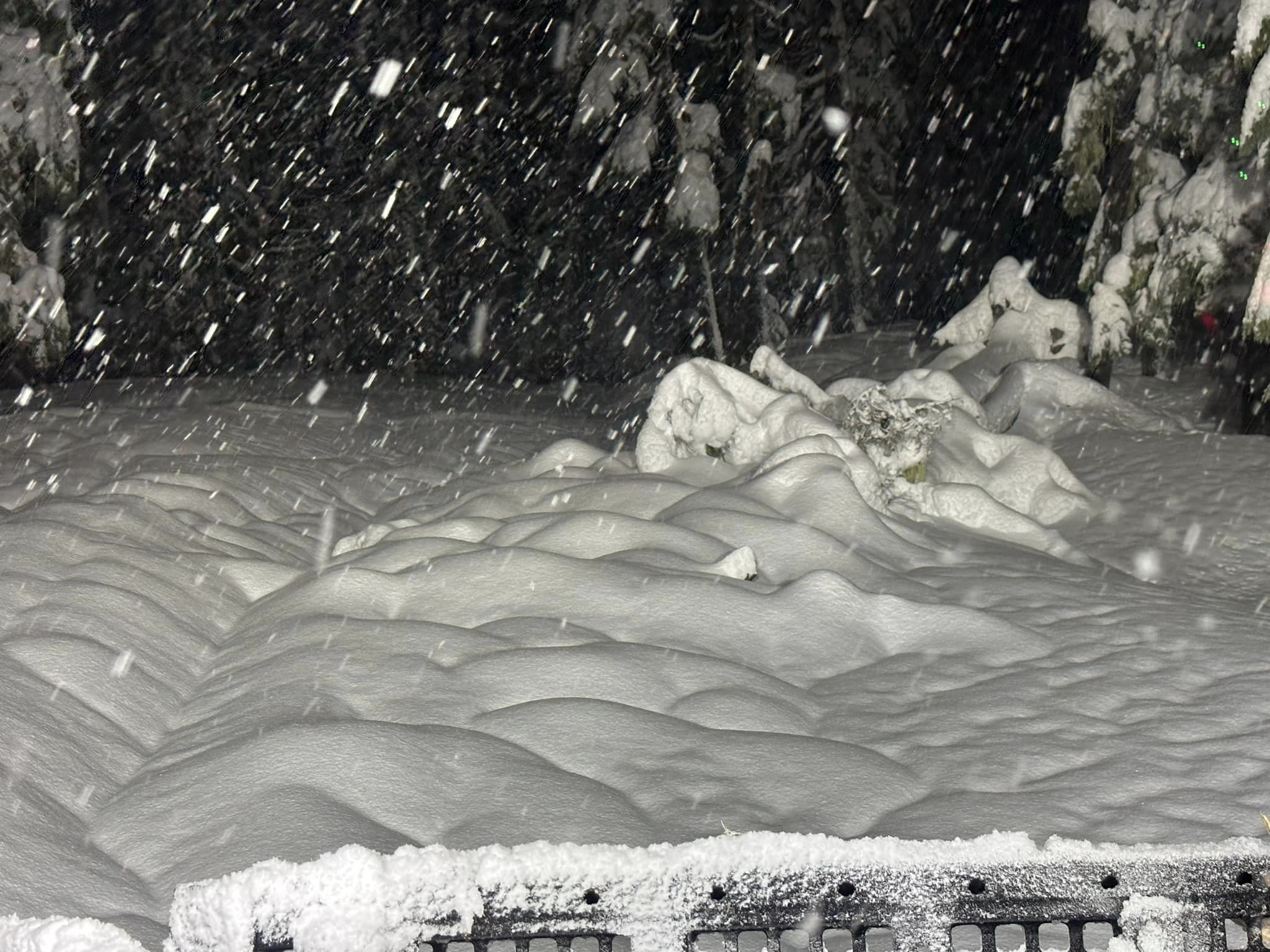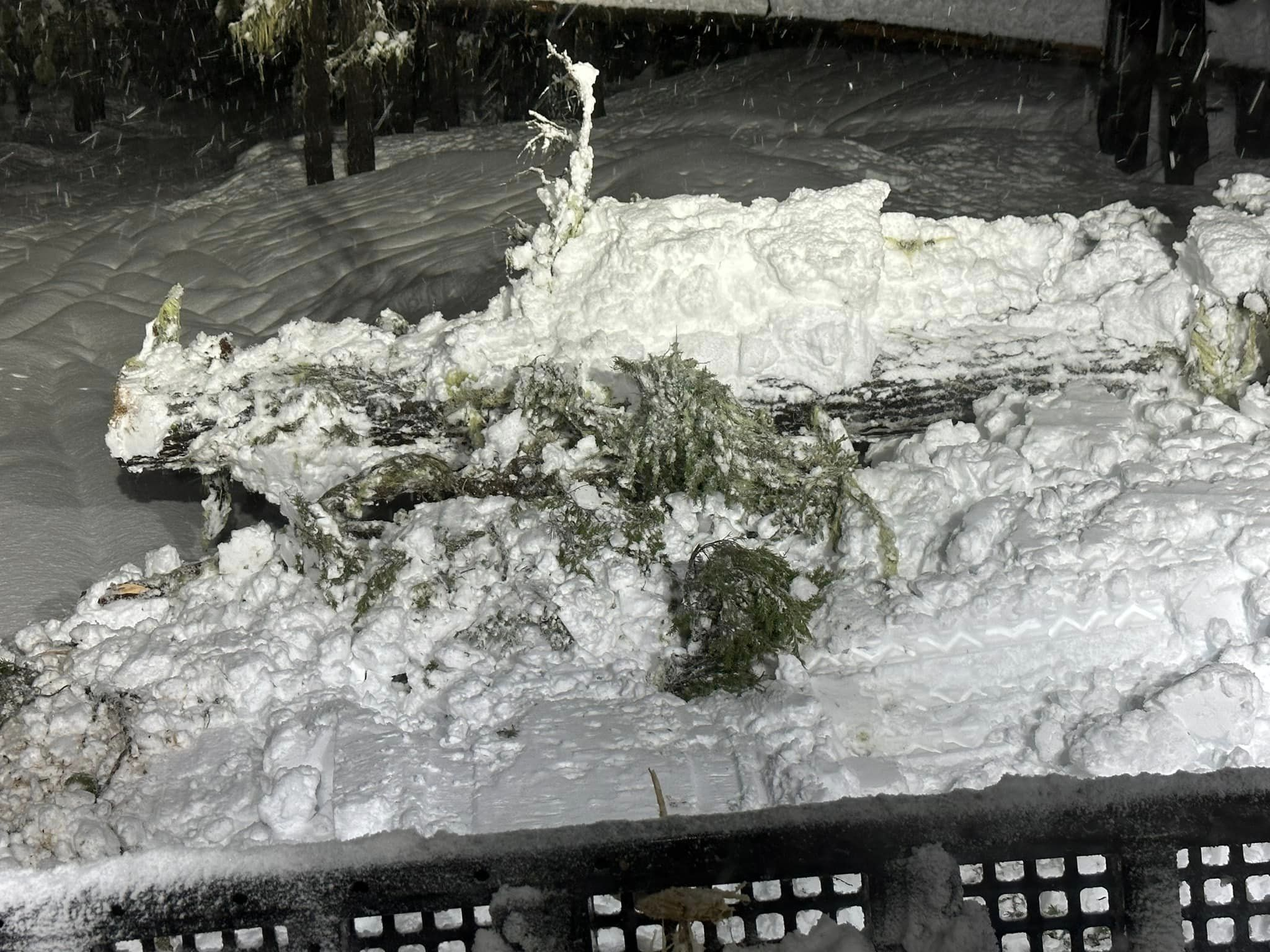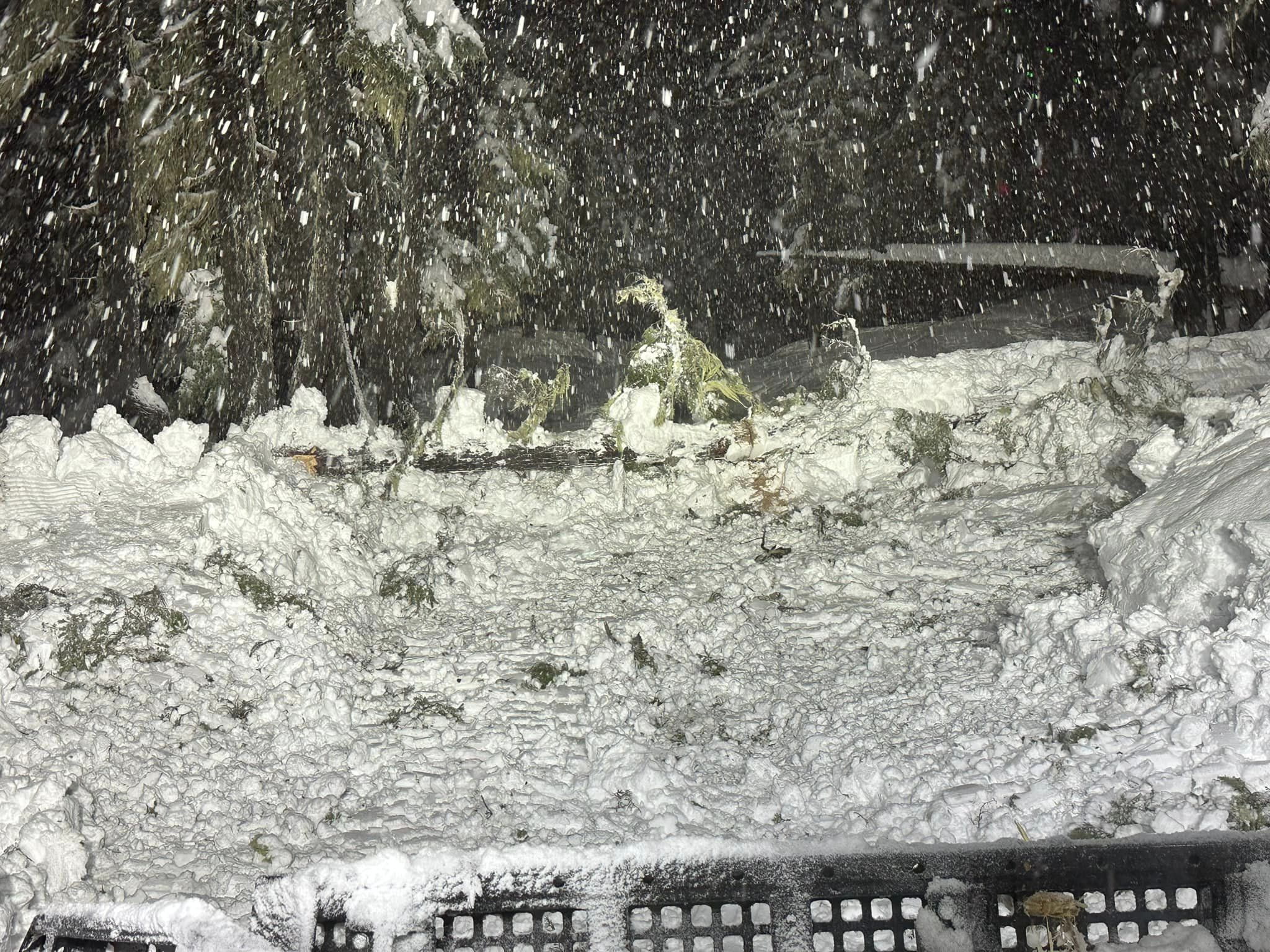 ---
Grooming Report for Monday, December 19, 2022
Cleaned up all the high elevation trails after all the weekend traffic and had some extra energy so I zipped down to Beals loop/Two rivers area and back around the lake. Cleaned up all the local trailheads and over to Odell Lake lodge.
---
Grooming Report for Monday, December 12, 2022
We had a faulty DEF hose on the new cat leaving it parked for the last two days. Early AM we started replacing parts and had a factory rep deliver the needed new parts to wrap it up today- then off we went singing "toodaloo" to catch up on all the grooming!
Below on the Avenza screenshot shows what's been groomed in green-we went around Crescent and up to the Tip shelter and back, had plenty of fuel left so we hit Windigo Pass too! The conditions are ripe for some midweek shenanigans!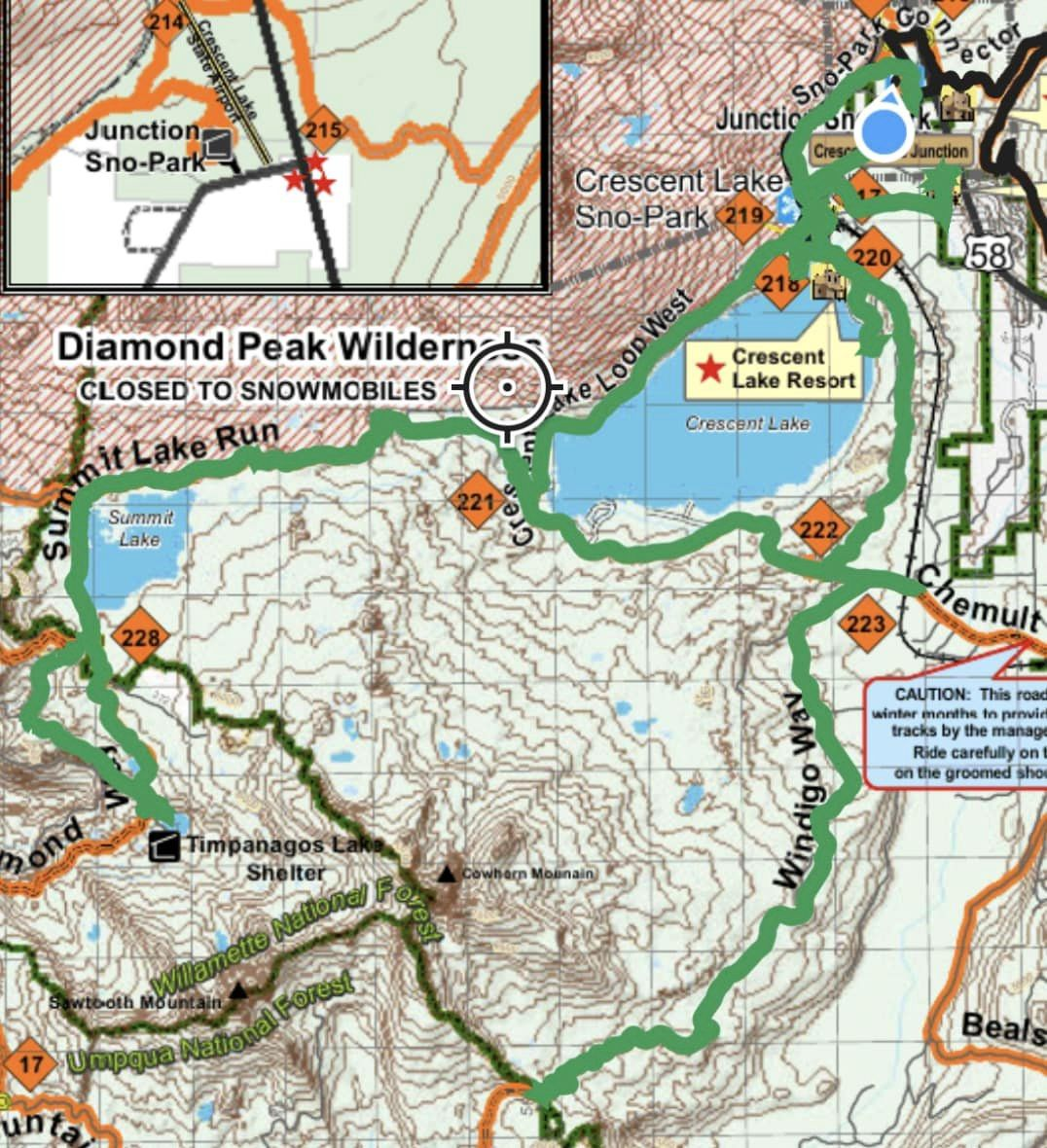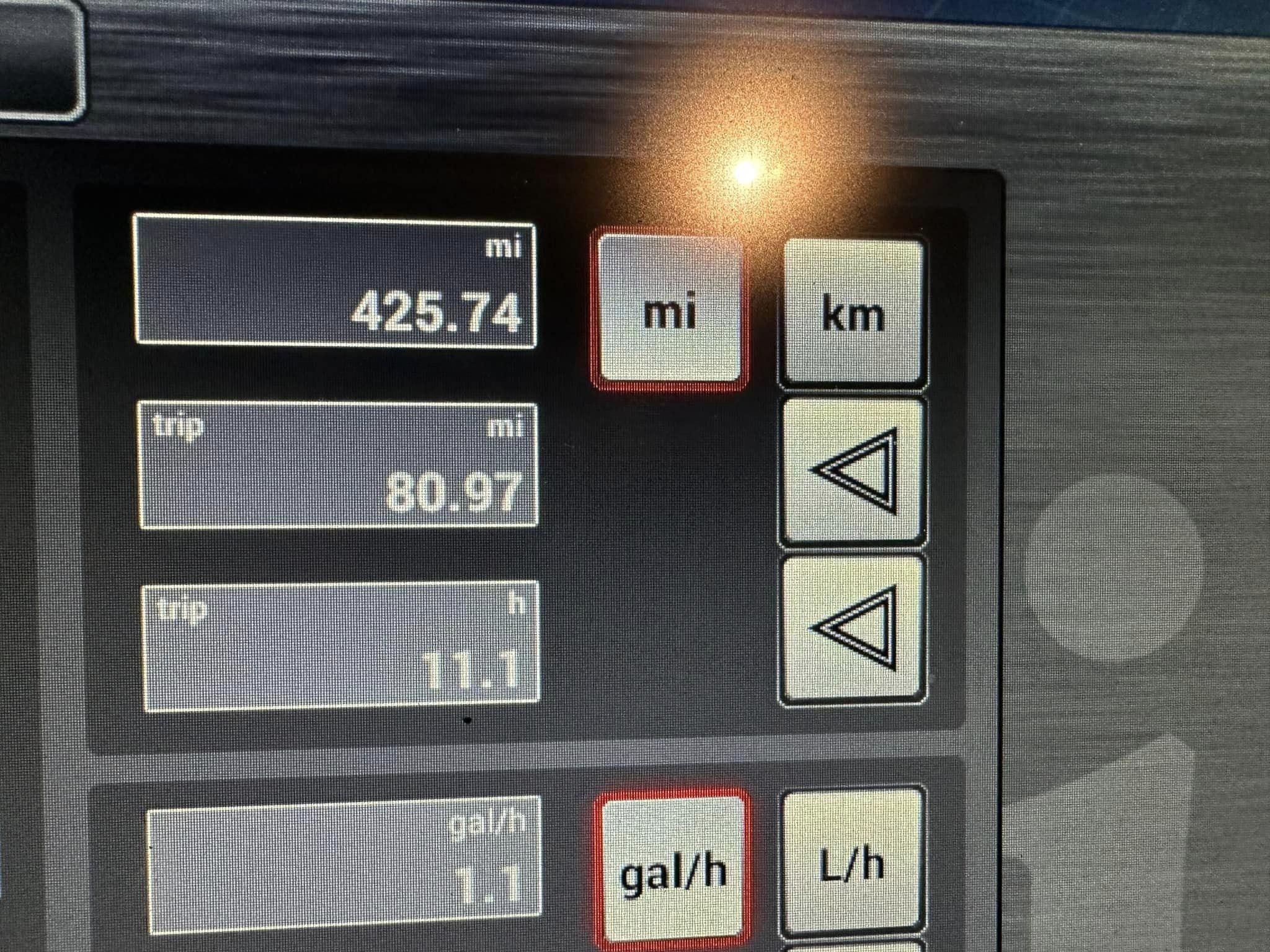 ---
Grooming Report for Thursday, December 8, 2022
Ran the cat up to the Deschutes bridge and cleaned up the deep vehicle ruts and a few trees, this would be the PERFECT weekend for a sled trip from Crescent Lake to Elk Lake lodge for one of their fantastic food offerings! Or vice-versa  if you already live up north this is going to be the best conditions for a trip down to Crescent Lake Junction where I highly recommend Odell Lake lodge for one of their famous burgers and hot chocolates or Manley's Tavern for the chicken and JoJo combo! Crescent Lake Junction offers fuel at both Odell Lake Lodge the the Sportsman Store, Overnight lodging around the junction can be found at Odell Lake lodge, Crescent Creek Cottages and Willamette Pass Inn. If you're really adventurous, stop in and see us on your ride from Bend/Sisters all the way through to Diamond Lake and Crater Lake! The Walker Rim Snowmobile Club is located right in the center of the best trail system in the state! (But don't tell anyone)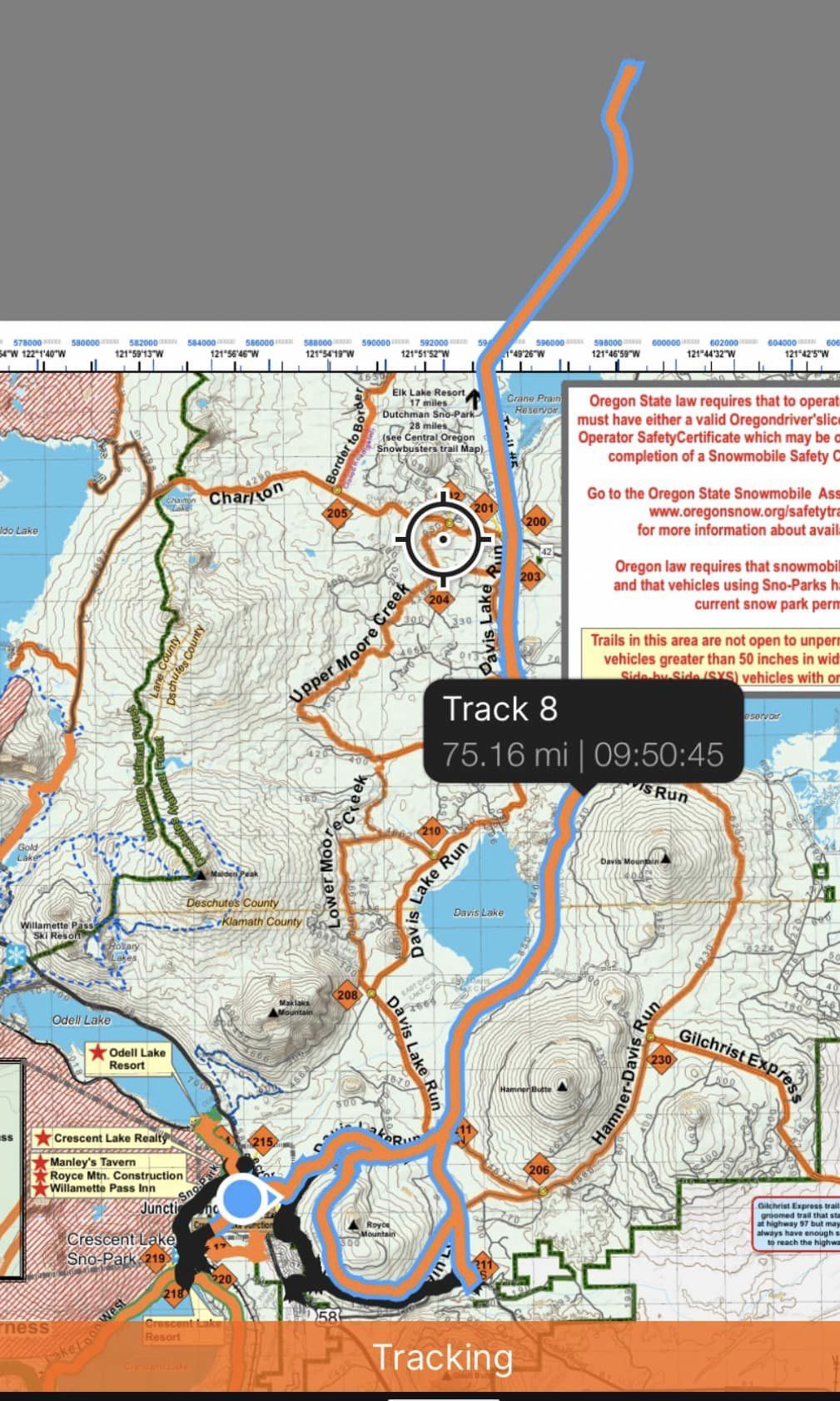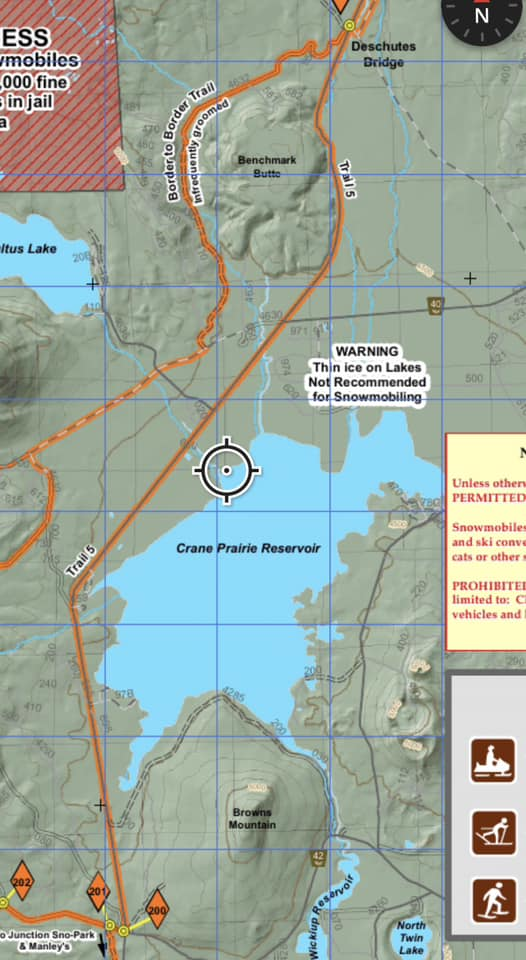 ---
Grooming Report for Sunday, December 4, 2022
We had a chance to do more grooming operator training today, lots of local cleanup and then around the lake and over to Odell Lake Lodge.
The Orange/blue line below is freshly groomed- GET OUT AND ENJOY!