Report for Monday, April 3, 2023
North Warners yesterday. So good.
---
Report for Wednesday, March 15, 2023
Well it's been a very interesting Fall and Winter. No Fall rain before the snow. The Warner's started out slow not getting much more snow than we've gotten in the Valley then we had an 8 week false spring that melted the snow down at our level. I'm glad it picked up and we've got a good snowpack in the Warner's. Some numbers around the basin are 109" in Dismal, 68" at Rogger Meadows, 60" in Sherman Valley, 75" at Patton Meadows and even 22" on Hart Mountain.
Judy Garrett
saw some avalanches around lower cottonwood before this last rainstorm. This might be a continuing problem in some of your favorite bowls. Be very careful if you head out.
---
Grooming Report for Monday, February 6, 2023
Made it to Vee Lake and Overton Reservoir on Saturday lots of road to ride get after it.
---
Grooming/Trail Conditions Report for Sunday, January 8, 2023
Well, it's been a rollercoaster of a fall/winter down at the Goose Lake Valley elevation with abnormally warm weather and lot's of rain but the good news is we just hit our AVERAGE snowfall for the year. By my home measurements. yesterday's storm brought us to 52" total snow! The warner's finally got substantially more snowfall than we are down here. About 7" overnight in Dismal for a total of 75" snowpack. Only about 28" though in the North Warner's at Sherman Valley, the
closest measurement site to one of your favorites, Bull Prarie. There's even 13" of snowpack on Hart Mountain! For those of you that want to head north from Quartz Mountain Sno Park on 140W, there's 74" at Finley Corralls.
We are at a total of 154% of moisture for the whole basin with about 116% of our total annual precipitation. Quartz Mountain is leading with about 358% moisture. Real good news for the West Side Reservoirs.
Let's get the guys out grooming and I hope that you are able to enjoy this cold and sunny week! Jack D.
---
---
Rob's out working today!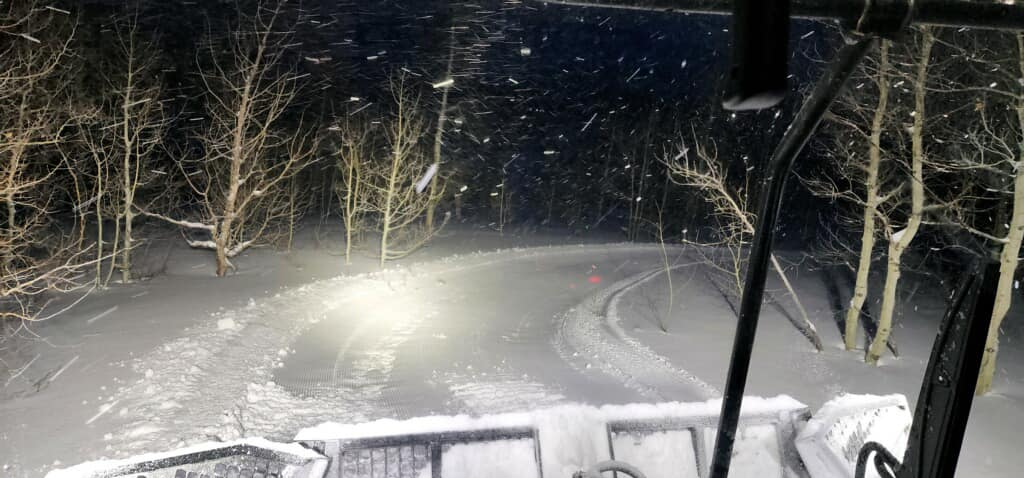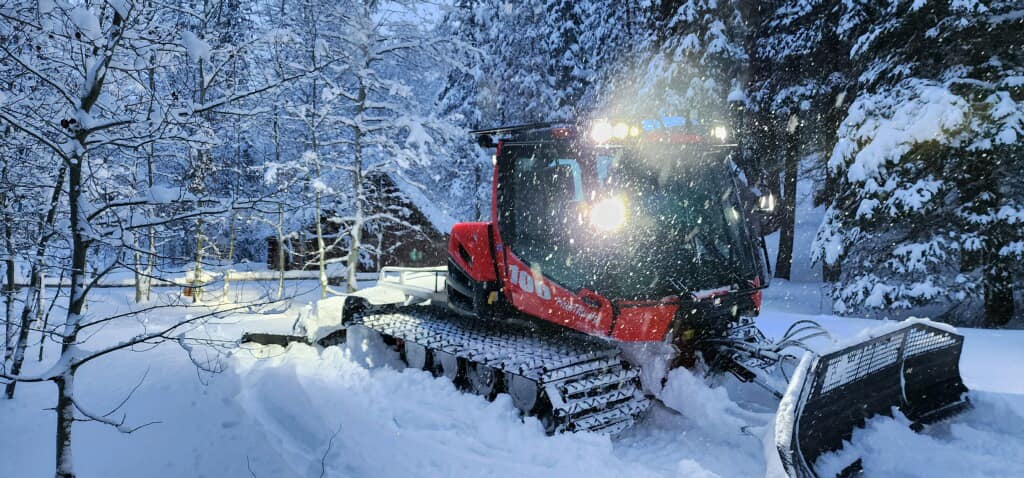 ---
Grooming Report for Wednesday, December 28, 2022
Andy groomed to the top of Drake's Peak and Willow Creek Campground before the rain and thaw. Things froze up again last night so your trails are going to be frozen. Looks like a good chance to try out the tiller! He'll groom some more after this week's snow.
On a side note….we're at about 106% of precipitation and 136% of moisture content for the basin. 275% moisture on Quartz Mountain and 195% at Strawberry! Doesn't help the sledders in the Warner's, but good news for our
Westside ranchers. More to follow after the weekend.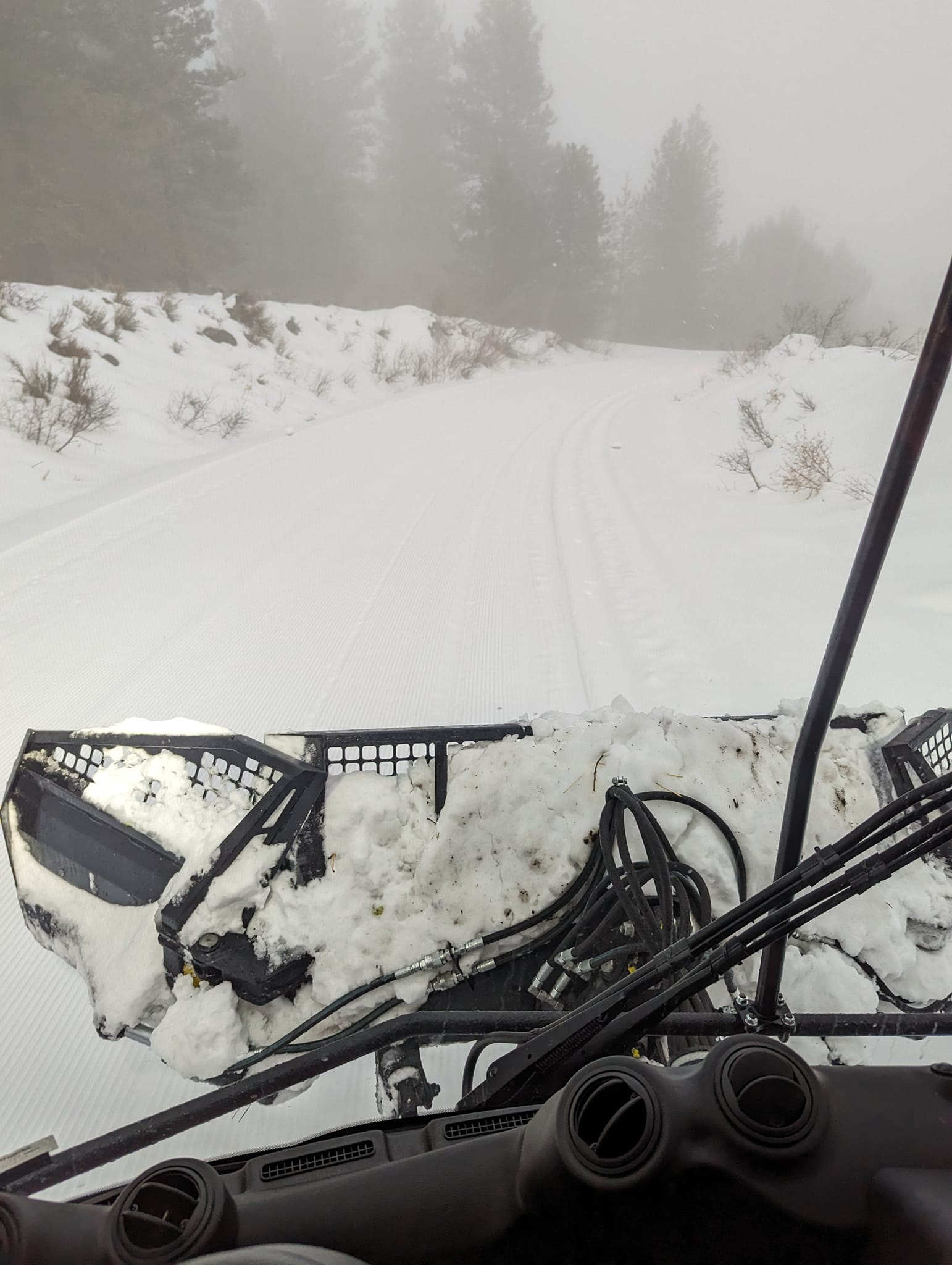 ---
Grooming Report for Monday, December 19, 2022
Andy groomed the North Warner's again, started on the loop trails in the South Warner's and got a little closer to Dismal for you. He's been out there making the Warner's a great place for you to play!
---
Grooming Report for Monday, December 12, 2022
Rob and Andy have been busy. The North Warner's have been groomed up to the end of the paved road and 3915 through the South Warner's, past Rogger Meadows up to the turnoff to Crane Mountain/Willow Creek Campground.
There's over 4' in Dismal. Opening it up over to Pine Creek Canyon is next on the list of things to do.
---
Grooming Report for Saturday, December 3, 2022
Volunteer, Andy Pardue took the groomer out today to the north Warners. Jack reports up to 30" of snow has fallen.